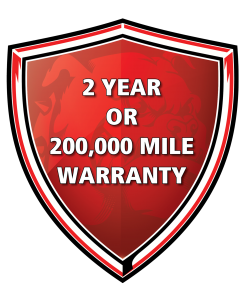 BULLDOG HD™ is pleased to warrant to the original vehicle owner that each new BULLDOG HD™ shock shall be free from defects in workmanship and materials, when used under normal operating conditions. 2 year or 200,000 miles is defined as for as long as the original purchaser owns the vehicle on which the BULLDOG HD™ products were installed.
This warranty is limited to the exchange/replacement of the BULLDOG HD™ product that is being claimed as defective. This warranty makes no further expressed or implied obligation under this warranty. This warranty is expressed for the exchange or replacement cost of the defect product or a refund of the original purchase price of the product. This warranty does not apply to conditions caused by normal wear and tear or to products that have been altered, modified, improperly installed, used in applications other than their original intent, and damaged due to vehicle modification or accident.
All cost associated with the installation, removal and replacement of the defective product is not included in this warranty and shall not be considered for reimbursement.
Procedure for Making a Warranty Claim
As the exclusive authorized distributor for BULLDOG HD™ in North America, all warranty claims will be processed by DMA Sales, LLC on the behalf of BULLDOG HD™. All warranty claim decisions made by DMA Sales, LLC are final.
In order to process a warranty claim, the defective part must be returned to the parts distributor with whom the part was originally purchased. The defective part must be accompanied by the following documents: Original dated purchase invoice showing to whom the part was sold and when it was installed. Replacement part dated invoice showing that the defective part was replaced with a new BULLDOG HD™ part.
Once the part has been inspected by the original distributor and determined to comply with the stipulations of this warranty, all defective parts should be held by the distributor and the associated paper work must be returned to DMA Sales, LLC for final processing. Upon receiving the warranty documents, DMA Sales, LLC shall issue the parts distributor a credit on their account for the amount of credit due, if all is in compliance to the warranty policy. Once warranty is credited, the distributor shall be responsible for destroying the product. If DMA requests warranty products to be returned, the distributor must return the parts to DMA in order to receive credits.